阿富汗总统试图打消美国对其反西方演讲的顾虑
(单词翻译:双击或拖选)

Afghan President Hamid Karzai has telephoned Washington to allay1 concerns about a speech in which he criticised Western involvement in his country.
阿富汗总统哈米德·卡尔扎伊致电华盛顿,意在减轻美国方面对其西方国家干涉阿富汗内政的言论的顾虑。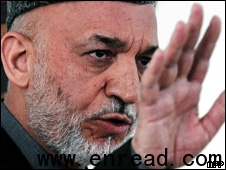 Hamid Karzai's speech had been misunderstood, his spokesman said

Mr Karzai accused foreign officials in Kabul on Thursday of seeking to weaken him and his government. The White House said his comments were "troubling".
On Friday, he told Secretary of State Hillary Clinton Afghans were grateful for the international community's help.
A state department spokesman described the conversation as "constructive2".
"President Karzai reaffirmed his commitment to the partnership3 between our two countries and expressed his appreciation4 for the contributions and sacrifices of the international community," P J Crowley said.
Mrs Clinton told Mr Karzai that they should focus on common aims for stabilising Afghanistan, he added.
"They pledged to continue working together in a spirit of partnership."
'Misunderstood'
In his controversial speech, Mr Karzai admitted there had been fraud in the presidential and provincial5 council elections last August.
"No doubt that there was a very widespread fraud, very widespread," he told the Afghan Independent Election Commission (IEC).
"But Afghans did not do this fraud. The foreigners did this fraud," he added, singling out Peter Galbraith, the former deputy head of the UN mission, and the EU mission head Gen Phillippe Morillon for blame.
He accused them of involvement in a plot to install a puppet(傀儡,木偶) government. Both officials have denied the allegations(辩解,断言) .
On Friday, White House press secretary Robert Gibbs said Mr Karzai's words were "genuinely troubling", and that the US ambassador, Karl Eikenberry, had asked the president "to clarify what he meant".
During their telephone conversation, Mr Karzai told Mrs Clinton that the "the Afghan people and Afghan government were grateful for the support and sacrifice of the international community for peace in Afghanistan and the world," the president's spokesman, Waheed Omer, said.
Mr Omer also insisted the speech had been misunderstood.
"There is a difference of opinion on certain issues between Afghanistan and its international partners, but the president wanted the international community to pay attention to the concerns of the Afghan people," he added.
The BBC's Kim Ghattas in Washington says the controversy6(争论,辩论) has raised real concerns in Washington about how reliable a partner Mr Karzai is, with close to 90,000 US troops deployed7 in Afghanistan.
Senior US officials are also concerned that Mr Karzai has seemed unable to turn the page since the elections, hinting that Mrs Clinton had appealed to him to let go and move on, our correspondent says.
点击

收听单词发音
1

allay
v.消除,减轻(恐惧、怀疑等)

参考例句:

The police tried to allay her fears but failed.警察力图减轻她的恐惧,但是没有收到什么效果。
They are trying to allay public fears about the spread of the disease.他们正竭力减轻公众对这种疾病传播的恐惧。
2

constructive
adj.建设的,建设性的

参考例句:

We welcome constructive criticism.我们乐意接受有建设性的批评。
He is beginning to deal with his anger in a constructive way.他开始用建设性的方法处理自己的怒气。
3

partnership
n.合作关系,伙伴关系

参考例句:

The company has gone into partnership with Swiss Bank Corporation.这家公司已经和瑞士银行公司建立合作关系。
Martin has taken him into general partnership in his company.马丁已让他成为公司的普通合伙人。
4

appreciation
n.评价;欣赏;感谢;领会,理解;价格上涨

参考例句:

I would like to express my appreciation and thanks to you all.我想对你们所有人表达我的感激和谢意。
I'll be sending them a donation in appreciation of their help.我将送给他们一笔捐款以感谢他们的帮助。
5

provincial
adj.省的,地方的;n.外省人,乡下人

参考例句:

City dwellers think country folk have provincial attitudes.城里人以为乡下人思想迂腐。
Two leading cadres came down from the provincial capital yesterday.昨天从省里下来了两位领导干部。
6

controversy
n.争论,辩论,争吵

参考例句:

That is a fact beyond controversy.那是一个无可争论的事实。
We ran the risk of becoming the butt of every controversy.我们要冒使自己在所有的纷争中都成为众矢之的的风险。
7

deployed
(尤指军事行动)使展开( deploy的过去式和过去分词 ); 施展; 部署; 有效地利用

参考例句:

Tanks have been deployed all along the front line. 沿整个前线已部署了坦克。
The artillery was deployed to bear on the fort. 火炮是对着那个碉堡部署的。