The White House has said that it will take no decision on sending more troops to Afghanistan until it determines the new government is a "true partner".
白宫发言人称,直到确定阿富汗新政府是"真正的合作者"之前,不会向阿富汗派遣更多部队。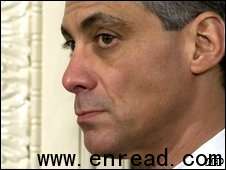 The focus, Mr Emanuel says, should be on governance, not troops

White House Chief of Staff Rahm Emanuel told CNN TV it would be "reckless(鲁莽的)" to take such a decision without a thorough analysis of the new government.
Washington is debating a request for 40,000 more troops in Afghanistan.
Results from an investigation1 into fraud claims in the presidential poll are due in the next few days.
It is expected to reveal that incumbent2 President(现任总统) Hamid Karzai did not achieve more than the 50% of votes needed to avoid a second round.
Strategy
Mr Karzai insists he won the 20 August vote but EU observers say that as many as one in four votes cast was suspicious.
Foreign officials - including US Secretary of State Hillary Clinton and France's Foreign Minister Bernard Kouchner - have been pressing Mr Karzai to accept that he might have to face a run-off(决定性竞赛).
Speaking to CNN, Mr Emanuel said the US would want first to be sure that the government was capable of becoming a "true partner" able to govern the country.
"It would be reckless to make a decision on US troop level if, in fact, you haven't done a thorough analysis of whether, in fact, there's an Afghan partner ready to fill that space that the US troops would create and become a true partner in governing the Afghan country," he said.
Gen Stanley McChrystal, the US and Nato commander in the country, has recommended sending the extra troops as the US reviews its strategy.
But Mr Emanuel said that the number of soldiers deployed3 in the country was secondary to whether or not they could work alongside an effective Afghan administration.
"The question does not come how many troops you send, but do you have a credible4 Afghan partner for this process that can provide the security and the type of services that the Afghan people need?" he told CNN's State of the Union programme.
Results delayed
Initial results from August's election gave Mr Karzai 55% of the votes, with his nearest rival, Abdullah Abdullah, getting 28%.
But the UN-backed Electoral Complaints Commission (ECC) launched an investigation into the vote following allegations of widespread electoral fraud.
It will report to the Independent Election Commission (IEC), which could adjust the final tally5(计算), bringing Mr Karzai's vote total below 50% and triggering a run-off.
Officials say Mr Karzai is furious(狂怒的,猛烈的) over the prospect6 of facing a second round, threatening to delay or block attempts to hold a second round.
He has refused to accept the ECC's findings before they are released.
The ECC had been expected to announce its findings on Saturday. But the reported confrontation7(对审,面对) with Mr Karzai may delay the official announcement of results.
点击

收听单词发音
1

investigation
n.调查,调查研究

参考例句:

In an investigation,a new fact became known, which told against him.在调查中新发现了一件对他不利的事实。
He drew the conclusion by building on his own investigation.他根据自己的调查研究作出结论。
2

incumbent
adj.成为责任的,有义务的;现任的,在职的

参考例句:

He defeated the incumbent governor by a large plurality.他以压倒多数票击败了现任州长。
It is incumbent upon you to warn them.你有责任警告他们。
3

deployed
(尤指军事行动)使展开( deploy的过去式和过去分词 ); 施展; 部署; 有效地利用

参考例句:

Tanks have been deployed all along the front line. 沿整个前线已部署了坦克。
The artillery was deployed to bear on the fort. 火炮是对着那个碉堡部署的。
4

credible
adj.可信任的,可靠的

参考例句:

The news report is hardly credible.这则新闻报道令人难以置信。
Is there a credible alternative to the nuclear deterrent?是否有可以取代核威慑力量的可靠办法?
5

tally
n.计数器,记分,一致,测量;vt.计算,记录,使一致;vi.计算,记分,一致

参考例句:

Don't forget to keep a careful tally of what you spend.别忘了仔细记下你的开支账目。
The facts mentioned in the report tally to every detail.报告中所提到的事实都丝毫不差。
6

prospect
n.前景,前途;景色,视野

参考例句:

This state of things holds out a cheerful prospect.事态呈现出可喜的前景。
The prospect became more evident.前景变得更加明朗了。
7

confrontation
n.对抗,对峙,冲突

参考例句:

We can't risk another confrontation with the union.我们不能冒再次同工会对抗的危险。
After years of confrontation,they finally have achieved a modus vivendi.在对抗很长时间后,他们最后达成安宁生存的非正式协议。