Divorce 'health scars permanent' 离婚"影响健康"
(单词翻译:双击或拖选)

Divorce has a lingering, detrimental1 impact on health that even remarriage cannot fully2 repair, a study suggests.
一项调查显示,离婚对于健康有持续的、有害的影响,即使再婚也不能完全恢复。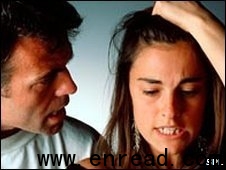 Stressful relationships can be bad for your health

A Chicago study involving 8,652 people aged3 51 to 61 found divorced people have 20% more chronic4 illnesses(慢性病) such as cancer than those who never marry.
The figure only drops to 12% for those who remarry, researchers write in the Journal of Health and Social Behaviour.
They say we start adulthood5 with a "health stock" that is kept or eroded6(被侵蚀的) depending on our marital7(婚姻的) experience.
Only those who are continuously married can expect the same rate of chronic health problems as the never-wedded, the study suggests.
Although people who remarry after a divorce or being widowed do tend to be happier as a result - being no more depressed8 than those continuously married and less depressed than those who never married - they gain little in terms of chronic health conditions.
People who remarried had 12% more chronic health conditions than those continuously married, which was slightly less than the 20% for the divorced or widowed who did not remarry.
Researcher Dr Linda Waite, a sociologist9 at the University of Chicago, said divorce or widowhood undermines health because incomes drop and stress develops over issues such as shared child care.
Stresses and strains
Whereas marriage tends to bring an immediate10 health benefit, in that it improves health behaviours for men and financial well-being11 for women.
But remarriage does not heal all.
She said: "Some health situations, like depression, seem to respond both quickly and strongly to changes in current conditions.
"In contrast, conditions such as diabetes12 and heart disease develop slowly over a substantial period and show the impact of past experiences, which is why health is undermined by divorce or widowhood, even when a person remarries."
Anastasia de Waal, of the think tank Civitas, said: "This research highlights the fact that whilst(当……时) divorce has become much more common, it can take not just a tremendous emotional and financial toll13(通行费,代价), but also a heavy health one."
Christine Northan, a counsellor(顾问) for Relate, said: "I'm not surprised by the findings. It's another reason to work hard to make marriages last, unless it is a very destructive relationship.
"It's a good idea if you can use a messy divorce to understand both yourself better and why the relationship did not work.
"If you do that, you will be in a better place to go into a second successful marriage.
"But if you are drawn14 to people who are toxic15(有毒的) for you, then you may be better off staying single."
She said a surprising number of people unconsciously look for someone like their first wife or husband and that the chance of a second marriage ending in divorce was two-fold.