调查:英国人比其它欧洲人酒量大
(单词翻译:双击或拖选)

British revellers drink more alcohol than anyone else in Europe, a survey reveals.
一项调查表明,英国人比欧洲其它国家的人都能喝酒。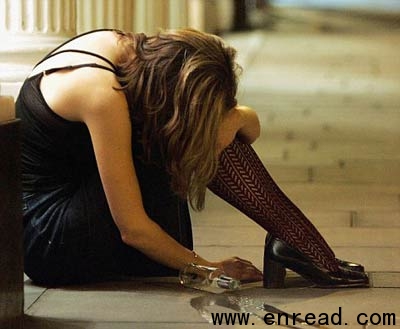 Binge culture: Britons drink the largest quantity of booze at a single session, the poll revealed.
The disturbing(烦扰的,令人不安的) findings expose the massive failure of the introduction of 24-hour drinking five years ago.
Ministers predicted new relaxed licensing1 laws would create a European-style 'cafe culture'. Instead, they turned town centres into no-go areas on Friday and Saturday nights.
The study by pollsters(民意测验专家) Eurobarometer found that while Britons are not Europe's most frequent drinkers, once we are on a drinking session, we guzzle2(狂饮,暴食) more alcohol than anyone else.
Some 12 per cent of Britons admitted to downing more than seven drinks in a session. For the purposes of the survey, one drink was defined as a single glass of wine, beer or spirits(烈酒) .
Britain's binge-drinking put it ahead of the likes of Ireland, Finland and Germany, which have all scored highly in previous alcohol studies, while in Bulgaria, Greece and Austria, not one person admitted drinking more than seven drinks in a single session.
Only 20 per cent of Britons said they had consumed no alcohol in the past 12 months, compared to double that figure in Portugal, Italy and Hungary.
A Eurobarometer spokesman added: 'Europe is the region with the highest per capita(每人,人均) alcohol consumption in the world, and Britain tops the league for the largest volumes drunk in single sessions.'
Home Office figures show crime and disorder3 caused by binge drinking(酗酒,豪饮) costs the taxpayer4 between £8billion and £13billion a year.
Home Office Minister Alan Campbell announced this month that pub owners who offered 'all you can drink' promotions5 could be jailed under laws designed to curb6 binge drinking.
From July, pubs and bars will be forced to offer smaller drinking measures so customers can choose to drink less.
And they will have to ask anyone who looks younger than 18 for identification before selling them alcohol.
Half of Britons said they drank 'three or four times' a week, compared with 60 per cent of Italians, who said they drank up to two glasses every day of the week.
The European average is between one and three times a week.
点击

收听单词发音
1

licensing
v.批准,许可,颁发执照( license的现在分词 )

参考例句:

A large part of state regulation consists of occupational licensing. 大部分州的管理涉及行业的特许批准。 来自英汉非文学 - 行政法
That licensing procedures for projects would move faster. 这样的工程批准程序一定会加快。 来自辞典例句
2

guzzle
v.狂饮,暴食

参考例句:

Melissa had guzzled gin and tonics like they were lemonade.梅利莎像喝柠檬汽水一样大口地喝着加奎宁水的杜松子酒。
Pigs guzzle their food.猪总是狼吞虎咽地吃东西。
3

disorder
n.紊乱,混乱;骚动,骚乱;疾病,失调

参考例句:

When returning back,he discovered the room to be in disorder.回家后,他发现屋子里乱七八糟。
It contained a vast number of letters in great disorder.里面七零八落地装着许多信件。
4

taxpayer
n.纳税人

参考例句:

The new scheme will run off with a lot of the taxpayer's money.这项新计划将用去纳税人许多钱。
The taxpayer are unfavourably disposed towards the recent tax increase.纳税者对最近的增加税收十分反感。
5

promotions
促进( promotion的名词复数 ); 提升; 推广; 宣传

参考例句:

All services or promotions must have an appeal and wide application. 所有服务或促销工作都必须具有吸引力和广泛的适用性。
He promptly directed the highest promotions and decorations for General MacArthur. 他授予麦克阿瑟将军以最高的官阶和勋奖。
6

curb
n.场外证券市场,场外交易;vt.制止,抑制

参考例句:

I could not curb my anger.我按捺不住我的愤怒。
You must curb your daughter when you are in church.你在教堂时必须管住你的女儿。