Yao Ming, Ye Li shoot wedding photos
(单词翻译:双击或拖选)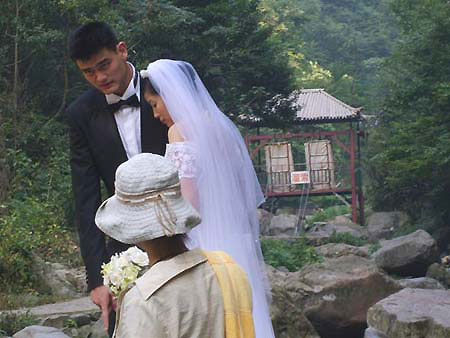 Chinese basketball star Yao Ming and his fiancée Ye Li shoot wedding photos at the Taihu Yuan scenic1 resort in Lin'an, east China's Zhejiang province on July 31, 2007.
Aug.2 - Chinese basketball superstar, Yao Ming, got up early Tuesday to shoot probably the most important group of photos in his life - his wedding photos - with his fiancée Ye Li, a national basketball team player from Shanghai.

They arrived early Tuesday morning at the Taihu Yuan scenic resort, the source of Taihu Lake, in the city of Lin'an, just two hours' drive from Ye Li's hometown, the Oriental Morning Post reported.

During two hours of shooting time, Yao Ming was moved by the beauty not only of his fiancée, but also of the scenery. He inquired into such environmental protection measures as limitations on the tourist flow.

In fact, the NBA Houston Rockets center has been active in environmental protection. Last August, he pledged to stop eating shark's fin2 soup, a Chinese delicacy3, as he joined a campaign to promote wildlife protection.

In previous media reports it was introduced that Yao Ming and Ye Li would apply for a marriage certificate within this summer.
点击

收听单词发音
1

scenic
adj.自然景色的,景色优美的

参考例句:

The scenic beauty of the place entranced the visitors.这里的美丽风光把游客们迷住了。
The scenic spot is on northwestern outskirts of Beijing.这个风景区位于北京的西北远郊。
2

fin
n.鳍;(飞机的)安定翼

参考例句:

They swim using a small fin on their back.它们用背上的小鳍游动。
The aircraft has a long tail fin.那架飞机有一个长长的尾翼。
3

delicacy
n.精致,细微,微妙,精良;美味,佳肴

参考例句:

We admired the delicacy of the craftsmanship.我们佩服工艺师精巧的手艺。
He sensed the delicacy of the situation.他感觉到了形势的微妙。