Yao Ming hurts knee in Rockets loss to Clips
(单词翻译:双击或拖选)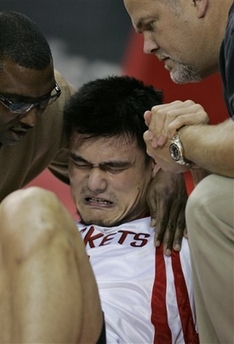 Houston Rockets' Yao Ming (11), of China, reacts as eam physician Dr. Mark Adickes, right, and trainer Keith Jones, left, attend to him during the first quarter of their NBA basketball game against the Los Angeles Clippers Saturday, Dec. 23, 2006, in Houston. Yao had to leave the game with a bruised1 right knee.
Dec. 14 - Tim Thomas scored 21 points and the Los Angeles Clippers snapped a six-game losing streak2 Saturday night with a 98-93 victory over the Houston Rockets, who lost Yao Ming to a knee injury.

Chris Kaman had 15 points and 11 rebounds3, Cuttino Mobley scored 18 and Elton Brand had 16 points, seven rebounds and four assists for the Clippers, who finally took control in the fourth quarter after Yao went down six minutes into the game.

The Rockets led 14-12 when Yao went down clutching his right knee and screaming in pain. Yao was leaping for a blocked shot as Chuck Hayes and Thomas hit the floor beneath him. Yao's knee appeared to get caught under Thomas' body and Yao immediately grabbed his knee.

Trainer Keith Jones and Bonzi Wells helped Yao limp off the floor and Yao was taken to a hospital for an MRI test. His status beyond Saturday's game was uncertain.

The Rockets were already playing without six-time All-Star Tracy McGrady, who sat out for the seventh straight game with back spasms4.

Yao's injury was an ominous5 flashback to last season, when Yao and McGrady missed a total of 60 games with injuries and Houston finished 34-48.

Shane Battier scored a season-high 28 points and grabbed six rebounds to lead the Rockets, who've lost two in a row at home after winning eight of their first nine.

Yao is off to the best start of his career, averaging 27 points and nine rebounds. He had topped 30 points in four consecutive6 games before scoring 22 in Friday's 97-78 win at San Antonio.

Houston survived for more than two quarters without him, turning to its perimeter7 shooting and league-leading scoring defense8 to keep the lead. The Rockets led 48-39 at the break after going 6-for-9 from 3-point range and holding the Clippers to 35 percent shooting.

Battier made three 3-pointers in the first half and had 20 points at halftime, two more than his previous season high. Dikembe Mutombo, Yao's backup, had two points, eight rebounds and four blocks in the opening half.

Battier started the second half with a left-handed hook to match the Rockets' biggest lead. But the 7-foot Kaman scored twice over Mutombo to start a 14-3 Clippers spurt9.

Luther Head hit a 3-pointer to put the Rockets up 53-45, but Thomas and Mobley sank back-to-back 3-pointers and Mobley made a turnaround jumper to tie the game.

The Rockets were lucky to trail only 69-67 heading to the fourth quarter. They went 7-for-21 from the field and were outrebounded 11-6 in the third.

Close-range baskets by Shaun Livingston and Corey Maggette snapped a 71-all tie and the Clippers inched away as the Rockets looked increasingly inept10 on both ends without Yao to bail11 them out.

Mobley beat Head to a loose ball and ran for a breakaway dunk with 4:40 left to put the Clippers up 87-79. Livingston followed with a deep jumper and Brand drove for a dunk that gave the Clippers a 91-79 lead.

Rafer Alston scored on two drives in the final 1:11 to draw the Rockets within four, but Daniel Ewing sank three free throws in the last 25 seconds to secure the victory.
点击

收听单词发音
1

bruised
[医]青肿的,瘀紫的

参考例句:

his bruised and bloodied nose 他沾满血的青肿的鼻子
She had slipped and badly bruised her face. 她滑了一跤,摔得鼻青脸肿。
2

streak
n.条理,斑纹,倾向,少许,痕迹;v.加条纹,变成条纹,奔驰,快速移动

参考例句:

The Indians used to streak their faces with paint.印第安人过去常用颜料在脸上涂条纹。
Why did you streak the tree?你为什么在树上刻条纹?
3

rebounds
反弹球( rebound的名词复数 ); 回弹球; 抢断篮板球; 复兴

参考例句:

V is the velocity after the gas particle rebounds from the wall. V是粒子从壁上弹开后的速度。
In the former case, the first body rebounds with practically its original velocity. 在前一种情况下,第一个物体实际上以原来的速度弹回。
4

spasms
n.痉挛( spasm的名词复数 );抽搐;(能量、行为等的)突发;发作

参考例句:

After the patient received acupuncture treatment,his spasms eased off somewhat. 病人接受针刺治疗后,痉挛稍微减轻了。 来自《简明英汉词典》
The smile died, squeezed out by spasms of anticipation and anxiety. 一阵阵预测和焦虑把她脸上的微笑挤掉了。 来自辞典例句
5

ominous
adj.不祥的,不吉的,预兆的,预示的

参考例句:

Those black clouds look ominous for our picnic.那些乌云对我们的野餐来说是个不祥之兆。
There was an ominous silence at the other end of the phone.电话那头出现了不祥的沉默。
6

consecutive
adj.连续的,联贯的,始终一贯的

参考例句:

It has rained for four consecutive days.已连续下了四天雨。
The policy of our Party is consecutive.我党的政策始终如一。
7

perimeter
n.周边,周长,周界

参考例句:

The river marks the eastern perimeter of our land.这条河标示我们的土地东面的边界。
Drinks in hands,they wandered around the perimeter of the ball field.他们手里拿着饮料在球场周围漫不经心地遛跶。
8

defense
n.防御,保卫;[pl.]防务工事;辩护,答辩

参考例句:

The accused has the right to defense.被告人有权获得辩护。
The war has impacted the area with military and defense workers.战争使那个地区挤满了军队和防御工程人员。
9

spurt
v.喷出;突然进发;突然兴隆

参考例句:

He put in a spurt at the beginning of the eighth lap.他进入第八圈时便开始冲刺。
After a silence, Molly let her anger spurt out.沉默了一会儿,莫莉的怒气便迸发了出来。
10

inept
adj.不恰当的,荒谬的,拙劣的

参考例句:

Whan an inept remark to make on such a formal occasion.在如此正式的场合,怎么说这样不恰当的话。
He's quite inept at tennis.他打网球太笨。
11

bail
v.舀(水),保释;n.保证金,保释,保释人

参考例句:

One of the prisoner's friends offered to bail him out.犯人的一个朋友答应保释他出来。
She has been granted conditional bail.她被准予有条件保释。